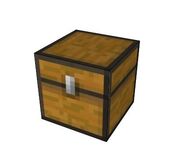 CREATING SHOPS
DO NOT PUT YOUR NAME. THE FIRST LINE IS ALWAYS BLANK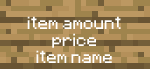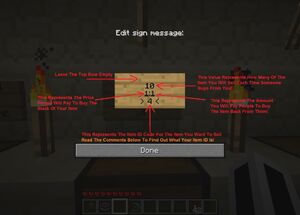 (Item name can actually be item ID or alias & when in doubt use item ID)
When you are creating a shop that buys and sells for price use B:S as in <buyprice>:<sellprice>.
Example: 2:5
You will buy for 2 and sell for 5
CLICK the image to the >>>> to see a better desctiption of what lines do and how it is setup


USING SHOPS
You could buy and sell by right and left clicking the sign for a long time.
Now it's the only way to use the shops.
It's SIMPLE!
Just LEFT-CLICK to SELL to shop, and
RIGHT-CLICK to BUY from shop.

DESTROYING SHOPS
If you want to delete your old shop, simply SNEAK and destroy the sign.
It's that easy =)
STOCKING SHOPS
You can either open the chest and stock it up, or click on your own sign - it will open chest's inventory (that way you can have chests not open-able by other people for sure)
Ad blocker interference detected!
Wikia is a free-to-use site that makes money from advertising. We have a modified experience for viewers using ad blockers

Wikia is not accessible if you've made further modifications. Remove the custom ad blocker rule(s) and the page will load as expected.